GrabCAD – the home of advanced FDM
Posted on 2019/11/22

It's very possible that you've wrestled with complexities at some point in the 3D printing process. It could be the CAD design of an intricate interior, or an unsatisfactory finish on the final print – there are a multitude of areas where a print could potentially turn out, let's say, "sub-optimal." At some point or another it's happened to all of us, and it's been a case of going back to the drawing board in CAD software, tweaking the design. Thanks to advanced FDM in GrabCAD Print, a set of tools is at your fingertips that can action these changes much more simply.
What is GrabCAD?
This may be obvious to some, but it's important to distinguish the differences between GrabCAD and other CAD software – and mention some positive features of the software.
Stratasys have developed this software as a blanket solution to printing with their 3D technology. To say that the GrabCAD is easy to use would be an understatement. Its intuitive nature has a hand to play in every aspect of the print job. From preparing the print to sending a report of the final production – GrabCAD is involved in data collection and distribution. This includes scheduling and monitoring, so it acts as a hyper capable assistant for the printing process.
But of course the true reason behind GrabCAD's inception was to allow Stratasys users a piece of software that can read and understand CAD files in their native form. This means no simplification or dilution from STL file (or equivalent) conversion. This combination of native CAD and streamlined job management further proves to improve the efficiency of workflows – but we'll come onto that sooner than you would think.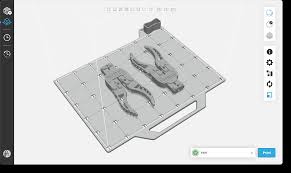 Improving workflows through the advanced FDM tool
The tool is enabled within GrabCAD print, and is a powerful addition to any FDM user. Part alteration becomes an easy task with the help of advanced FDM intuition and automated calculation of 3D print toolpaths.
The model-based job control not only references Native CAD data when selecting surfaces such as surfaces, infills and holes for greater customizability; it also gives advanced control to the user over model optimisation. Thickening some surfaces to create a greater strength at vital points of the model, or making bodies more (or less) rigid for the perfect print outcome. These desired FDM build attributes are automatically controlled, and allows users to control infill style, percentage, angle and number of contours.
In having this greater control over these specifics there is a guarantee that printed parts will come out exactly as needed. These specifications for structural needs will fundamentally reduce both print time and material cost. Furthermore, the ability to create manufacturing documentation and share it among the rest of the team will ensure that printing and post-processing instructions are followed swiftly and accurately.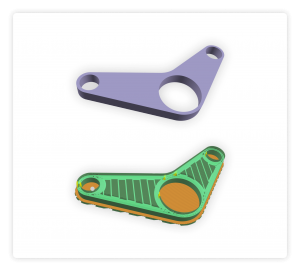 Who benefits from advanced FDM?
Engineers and operators working with Stratasys FDM printers will enjoy the simplification of preparing jobs through the elimination of manually editing local tool paths. They can enjoy geometry-target tools that ensure strength isn't compromised when optimising the weight and materials of purpose-built parts.
For a piece of software that mainly works to simplify printing, it has some complex terms attached to it! But it's not the end of the world if some of the language goes over your head, because highly-skilled application engineers aren't the only ones who can use the software – far less technically minded people have improved accessibility to 3D print design with advanced FDM. But more than that, those with a lower end machine such as the F170 or F270 can now work with advanced FDM due to recent compatibility upgrades, meaning more and more people can get the best from their prints.
That's just scraped the surface of GrabCAD print and the hugely helpful tool that is advanced FDM. If you want to learn more about getting the most from your prints, then contact us today! Our team will let you know how you can improve your FDM usage.
T: 03332 075 660
E: enquiries@3dprintacademy.co.uk
Book now or just need More Info?
Book Now