1 year on – Celebrate the 3D Print Academy's one year anniversary with us
Posted on 2019/09/20
We're delighted to announce it has officially been 1 year since the launch of the 3D Print Academy – a 3D print training division of the Stanford Marsh Group. We originally launched at last year's TCT show at the NEC and received a fantastic amount of interest as we kicked off with our level 1 and level 2 courses for PolyJet and FDM Stratasys technology. Now one year on, we're back at the TCT show next week with some exciting new courses to launch and a whole host of new machines and materials to talk about!
Let's take a look back at our journey over the past year…
Where it began..
In September 2018 we became the first organisation in the UK to be recognised as a Stratasys certified training centre! Our Academy trainers Richard and Alex were the first to travel to the Stratasys European headquarters in Baden Baden and complete their 'train the trainer' courses for basic operator and advanced operator training on both FDM and PolyJet technology. Since then, they have been delivering courses across the country to some of the UK's leading manufacturing, automotive and aerospace companies, as well as the education, healthcare and defence sectors. We've been receiving excellent feedback throughout the year on these courses, some of which can be seen below!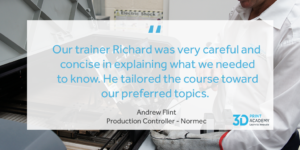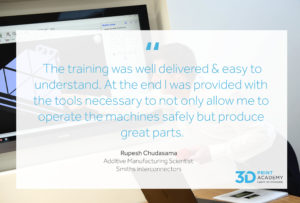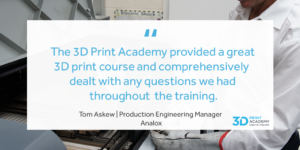 The complete solution…
As can be seen, we've had a great amount of success with these initial course offerings but what has really driven our growth over the past year is our unique offering as part of the Stanford Marsh Group. With a range of services under our Group, from the CAD side of the business as Autodesk Gold partners, we are able to offer professional design software solutions to both the manufacturing and Architecture, Engineering and Construction sectors, alongside dedicated consultancy and Autodesk accredited training. This puts our clients in an ideal position to move from the design stages to production where the 3D Print Academy are able to offer a range of consultancy and training services to help businesses understand what additive manufacturing options are available to them , and how these options compare against traditional manufacturing methods in the transition from design to production stages.
We've caught up with our Academy Business Development Manager  -Revathi Timms, to get an insight into her journey with the Academy over the past year. Revathi comments –
" We're really unique in the way that we offer a total solution as part of the Stanford Marsh Group and this really is our key strength as we have a range of in-house experts from the drawing office, right through to manufacturing experts who have worked in the field previously and are best placed to advise our clients."
From left to right – Trainer Richard Bolam, Business Development Manager Revathi and Trainer Alex Bordino.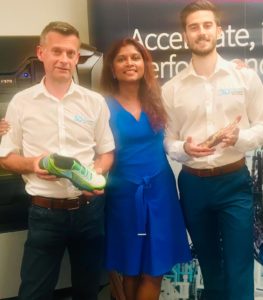 Changing perceptions…
Throughout the past year, we have also been working to create a change in perceptions on 3D printing and spread awareness of the potential benefits, as well as the wide range of applications it can cover. Whilst 3D printing isn't right for every process, we've been working to tackle the stigma that it's only useful for prototyping and we're pleased to see that more and more companies in the UK and globally are now utilising the technology for end – use production, tooling, jigs and fixtures and far more beyond just prototyping applications. It is through this advanced education that we provide as an Academy, that we are beginning to see a shift in the uses of additive manufacturing and the quality of the work being produced. Our trainer Richard comments –
"I often get sent into a company to deliver training for a Stratasys machine the client has just purchased for a specific application, yet when I go onsite I've been able to take a deeper look into the way the business is utilising their technology and sometimes identify a number of other applications which the client could be using their printer for."
Making waves in more and more sectors…
We are also beginning to see particular growth within the medical and education sectors in which our Business Development Manager Revathi has been working hard to create strong relationships with network of organisations within these sectors who are interested in 3D printing. Revathi comments –
"Whilst you see some really impressive prints on a daily basis, like our highly realistic fruit bowl at last year's TCT show that we printed using the Stratasys J750, the most rewarding part of the job is working with doctors and consultants to show them that 3D print technology can actually be used to create surgical models and exact replicas of patient organs which increase the chances of success in surgery. The results really are phenomenal and it's a pleasure to be able to introduce these specialists to the possibilities of 3D print technology."
IMPT Medical Conference 2019 –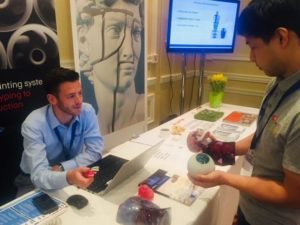 Building the foundations for success…
Whilst we deliver a range of introductory and advanced training courses for clients who have already purchased a printer, our aim is to deliver consultancy to a business before they make that initial investment to ensure the client purchases the right technology and the right printer model for their needs. Here at the academy, we like to be honest and if we don't think 3D printing is right for you, we'll let you know. However if it is well suited, we can then help a business to identify if there are any other applications they could be using 3D printing for, as well as a number of other key factors including, where we can save your business money, how we can streamline your workflow and how we can get you and your staff best prepared for the move over to additive.
In addition, we also work with companies who have already made that investment, yet perhaps aren't getting as much as they could out of their 3D Printer. In one of our most recent project's we have been working with propulsion systems developers – Roxel to further enhance their use of the Fortus FDM printer they invested in with Tri-Tech 3D. The 3D Print Academy worked with Roxel to deliver a tailored  level 2 Advanced Operator course which covered the design rules for Stratasys FDM printing. In turn, this course increased the standards of their printing and created further competence and awareness in their staff, which will lead to a greater return on investment. The roxel team had a fantastic time training and were pleased to receive their 3D Print Academy certification at the end!
3DPA consultancy day with Roxel –
Introducing two brand new courses…
In light of this, we are also celebrating the launch of two brand new courses this month, Design for Additive Manufacturing and an Intro to Additive Manufacturing. The Intro to additive Manufacturing course aims to offer an overview of additive manufacturing to complete beginners who have very little knowledge on this topic, in which it delivers an understating of the benefits, drawbacks and potential applications of 3D printing. In addition, our Design for Additive Manufacturing course is designed for those involved in the product design stages and seeks to deliver an understanding of the changes needed for a part which is going to be produce via 3D printing. More information about these two new training courses can be found on our website. What's more, if you visit us at the TCT Show next week, you ae eligible to receive an exclusive discount on our new courses! Give us a shout out if you're attending and we'll have a coffee waiting for you on out stand.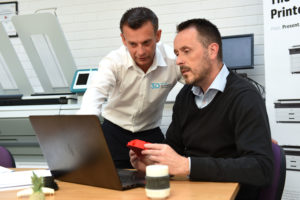 Overall, we have had a fantastic year and are really proud of the waves we have been making to educate businesses on the possibilities of 3D printing, as well as helping those clients who have already implemented the technology to further refine their prints and maximise their return on investment. There are some exciting times ahead of us as the technology constantly evolves and more and more developments come out, in addition to the constant increase in awareness around the technology and improved understanding of it's potential.  We continue to develop this awareness and look forward to what's to come in our 2nd year as a Stratasys accredited 3D print training academy. Don't forget to look out for us at this year's TCT show on the Tri-Tech 3D stand (A100).
In the meantime, check out this video our Business Development Manager Revathi has put together to review and celebrate the past year!
Book now or just need More Info?
Book Now